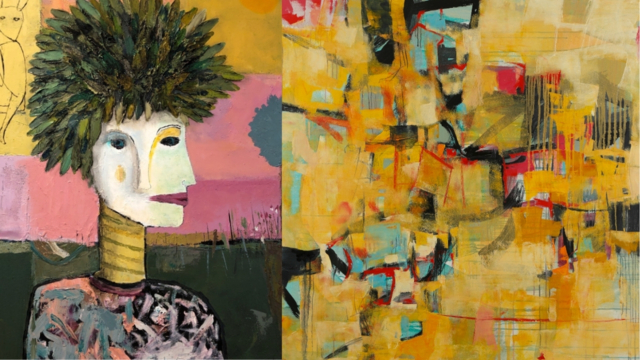 A dual show featuring Cheryl Chapman and Rodney Hatfield. More show information is forthcoming:

About Cheryl Chapman

My paintings reflect a world view that recognizes the human desire to arrange, distill, and make sense of an infinitely complex and interrelated universe. What can be perceived is only an incomplete generalization of a vast network of information. Seeking the essence of things in this often overwhelming age of information, we assemble emerging bits and hints of pattern. As an artist of non-objective and abstracted form, I see my process of art-making as a way to allow a visual vocabulary express, with color and composition in the material world, ideas for which words are inadequate.

I find inspiration in the visual occurrences of everyday life where color, line, and form find just the right intersection to create a moment of satisfyingly raw beauty. It is those moments that offer the possibility of communion, not just communication, which is the elusive goal of the artist.

Chapman has her MFA from the University of Kentucky and has appeared in numerous solo exhibitions and public and corporate collections.

About Rodney Hatfield

A lifetime resident of Appalachian Kentucky, Rodney Hatfield's greatest inspiration has been the rural and isolated environment in which he spent his formative years. His work has been described as 'whimsical yet disturbing' - as a self-taught artist, Hatfield's art displays a freedom with media, allowing different textures and ideas to be developed on the canvas. Often, due to a scavenging habit, his pieces are embellished with found and weathered objects such as newspapers and napkins, punching up the background and even the figures within to add an interesting, graphic effect. Throughout his artistic career, Hatfield has been shown regionally in the Kentucky area as well as the southwestern United States and Ecuador.